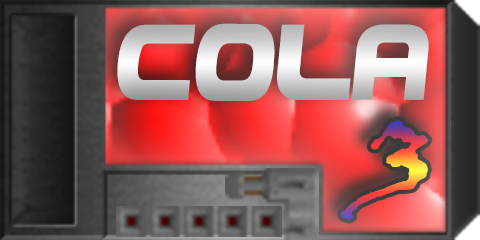 Cola 3: The Soda of Style
Release 2 is now available
---
- Rather than adding "proper" damage indication (never quite figured it out), I instead added a user option to disable the built-in one, for those who'd rather use a purpose-built add-on for it.
- Mister Cola now has a voice! Well, six of them, really. Choose from Male, Female, VERY Male, Gender-Neutral, WTF, and by popular demand, PEPSIMAAAN!
- Shotgun's upgrade path is now much more noticeable, as it comes with boosts to the number of pellets fired as well as the previous reload and fire speed increases.
- The "Showdown" altfire for the deck of cards now comes with an announcer (kindly provided by Marty Kirra).
- The Blastola Cola now has significantly more Blast to it (thanks to code provided by Yholl).
- The automap now displays icons and level indicators for every weapon you are currently carrying.
- There is now a fallback for equipped weapons that do not have defined ammo types, so the game no longer has a VM abort if such a weapon is equipped.
- The mod now works correctly with HacX 1.2 (2.0 alpha is untested). It is exceedingly difficult, however, because HacX expects the player to have weapons far more powerful (and health maximums much higher) than the mod provides. Hmm....
- Some considerations have been made towards a handful of third-party add-ons, released and otherwise. Most notably among them, weapons now have defined Inventory.Icon properties.
- The Smallfont has been replaced with one of my own design, replacing the Tony Hawk's Pro Skater 2 font previously in use.
- Shell casing effects were added to the pistol and shotguns.
- The descriptive text in Cola Options was reworded to take up less room.
Simply download ww-cola3.pk3 from the page to get the new version.
Files
Cola 3, version 2 (old!)
11 MB
Jun 16, 2018
Get Cola 3: The Soda of Style