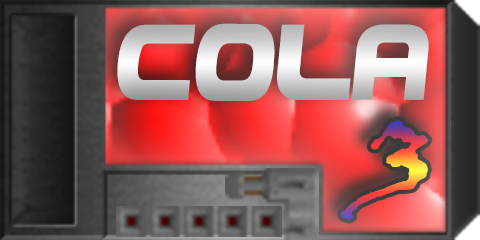 Cola 3: The Soda of Style
Release v2.5 is now available
---
I have posted an update to Cola 3. It is primarily bugfixes and updates to keep things up to date with the newer GZDooms; as such, most of my testing has been with the v4.1.x versions of GZDoom and you might have to update.
There are no new game features in this update, however the following fixes have been applied:
Hitscan enemies were dealing WAY too much damage!
I adopted Nash's menu tooltip code, with mild revisions, in order to make the Cola Options menu easier to read and manipulate.
Corrected the automap HUD issues I was having a couple weeks ago, so it now displays correctly in newer versions.
Automap HUD also now displays the current amount of ammo for each present weapon.
Probably forgot other stuff in the process, whatever
I anticipate this should be the definitive release of the mod, as I have not seen any bugs nor heard any reports of any bugs in the last couple of weeks.
Files
Cola 3, version 2.5 (new!)
11 MB
Jun 01, 2019
Get Cola 3: The Soda of Style