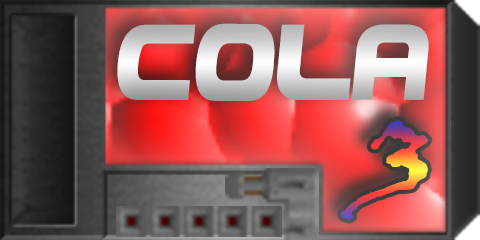 Cola 3: The Soda of Style
Cola 3 is a sequel to an unfinished sequel to a really old early-GZDoom mod of mine, The Adventures of Mister Cola. The original mod was a basic set of weapons that all had powered-up versions that'd enable when you found a six pack of cola. The sequel gave weapons gradual (albeit uninteresting) upgrades that came from, of all things, health pickups. Both, I'd argue, were missteps in the realm of gameplay and theme.

Nowadays, though, I felt like randomly giving the concept a third try, using the basic gameplay of Cave Story as inspiration. In Cola 3, you have a small selection of weapons that have infinite ammo (with reloading because damn it I like reloading), but every enemy drops a pile of "cola bubbles" that fill that weapon's upgrade bar. Each weapon has 3 upgrade levels, with significant behavior changes (so it's not like cola2 where it just boosts damage). However, you must take care not to get hit, as taking hits reduces your weapon's upgrade bar, and you can lose levels this way.
Credits Listing (further information on resources can be found in ww-credits.txt; open ww-cola3.pk3 with your ZIP/archive manager of choice.)
TerminusEst13, Marrub, Combine_Kegan, InsanityBringer, and a bunch of other cool people on Discord (moral support and some code help)
Captain J (a lot of graphics came from his SnapShooting Workshop)
Neccronixus (the current Missile Launcher sprite)
PillowBlaster (I borrowed a pickup sprite from him, and then he turned around and totally spruced up the shotgun and gave major gameplay feedback)
A contributor who wishes to remain anonymous (serious sprucing-up of the Piledriver sprite)
Yholl (I borrowed his synthfire script with some changes)
Snarboo and other contributors who extracted data from various ACKNEX games
Zrrion did the plasma rifle sprites and also some major major touch-ups on the shotguns holy crap
AFADoomer helped a damn lot by porting the HUD to ZScript among other nice fixes
Nyss had the bright idea for the Blastola Cola
torridgristle made the soda machine template I used for the menu/titlemap
The titlemap textures come from Freedoom
Marrub's been a damned lot of help with all this ZScript stuff, like, my god
dawnbreez came up with the rather inventive "BulletZ" system that replaces all hitscan attacks with bullet tracers. AFADoomer came up with a vital fix for it so enemy refires work correctly. /zscript/ColaBulletZ.txt is almost entirely their work.
This was last tested on GZDoom 3.4.1 and works with any Doom, Heretic, or Hexen IWAD, as well as Chex Quest 3, and as of release 2, HacX 1.2. Strife is not supported. Harmony is glitchy but may work.
Download
Click download now to get access to the following files:
Cola 3, version 2.5 (new!)
11 MB
Cola 3, version 2 (old!)
11 MB
Comments
Log in with itch.io to leave a comment.
probably the most original mod i've played in a while! only complaint is that sometimes it crashes randomly.
I wish I could get to the bottom of that crash - I assume it happened as you died? But I can't figure out what exactly it is that has to do with the player dying that causes that crash, especially since it doesn't happen all the time.
yeah the only times it crashed is when i played doom 2 and the final doom levels. some times it crashes when a lot of stuff happens. on doom 1 it does not crash at least not that i can remember. i haven't tested any custom WADs yet.
Okay... i can't find any posts about it in there and I'm not feeling up to reading an entire multi page thread. For what it's worth I haven't seen it happen in Cola in ages so I might have accidentally fixed it.